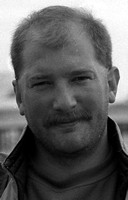 "These photos were taken in 1988 at a time when tensions between Catholics and Protestants were very high."

-
Richard Moore
Murder in Cemetery
As the coffins were being lowered pandemonium broke out as Stone hurled grenades into the crowd.
We had absolutely no idea what was going on. We could hear the explosions and the screams and IRA officials yelling at poeople to duck down.
I shot this photo essay in black and white to add to the atmosphere of Belfast at the time.