Some tales from the Berlin adventure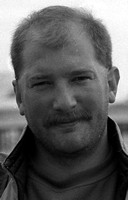 "Hearing of the events in Berlin I flew in to the city from my base in London. I'd grown up in the shadow of the Cold War and to be a witness to this momentous piece of history was thrilling."
- Richard Moore
You call that sausage?
Unkind people call the Germans sausage eaters as they have a reputation for making and serving up divine snarlers. Well after a really hard day's trudging around the Berlin Wall in freezing conditions and snow up to ankles I needed some hot food.
On my way back to the apartment I stopped in at a little bar and figured I'd grab a couple of sausages and some beer. I ordered and before the meats arrived I'd downed two pilsners of exceptionally fine beer.
When the sausages arrived I couldn't believe my eyes. In the capital of sausages I was served up two light-brown things on a plate.
They were the most unappetising snarlers I've ever seen - and they were boiled! Manfully, or rather because I was starving, I ate them but never again I vowed.
*******
Someone drank my rent
In Berlin we stayed in a private apartment belonging to a very nice old German fellow.
It was basic - but warm and comfy. The old guy had an adult son living with him who seemed nice enough to me and my travelling companions.
The night before we flew out of Berlin the son approached us and asked us to pay for the lodgings as neither he nor his dad would be up early enough when we left in the morning.
Thinking nothing of it we handed over the deutchmarks and settled in for the night. The next morning as we were leaving the old guy came out and asked for his dosh. "But we gave it to your son last night," I told him.
His face fell. "My son is a drinker and there will be nothing left."
As sorry as we felt for him we couldn't pay again and left him to take the matter up with the prodigal son.
*********
'Scuse me general can you take my picture?
Even after the fall of the Berlin Wall there were plenty of Soviet military types in the city. I was on the eastern side of the Brandenburg Gate taking photos when some senior Russian chaps were posing for photos in front of it.
As one does I offered to take one of all of them and they accepted.
They thanked me and then I asked "Can one of you take my picture please?" One duly obliged.
Ah, the joys of glasnost.
*********
Where can I buy a hat?
On a beautiful morning in Berlin I made the mistake of heading out without a hat.
I'd only been gone for an hour or so when all of sudden it seemed to snow out of a blue sky. And boy did it come down. My head and ears began to get very cold and so I went up to two East German soldiers who were patrolling the streets.
"Hello chaps," I started, "Do you know where I can buy a hat?"
The guys had a bit of a natter in German and suggested I head down a few blocks and check out the shops there.
"Thanks," said I, "Have a nice day."
One of the soldiers then asked me "Are you English?" I said "No, I'm Australian."
The guy looked around at all the snow piling up and said "Merry Christmas!"
- Richard Moore